Howdy Yall,
I'm new to this forum, but I thought you guys might get a kick out of my current project. I would love to hear comments and suggestions from fellow M-151 fans as this build is far from complete. Never done much research, but I think my Mutt is an A1, the data tag on the dash said 1964, and it had the double bumpstops on the rear suspension arms.
I have a full build thread on Pirate4x4.com that yall can check out if your interested:
http://www.pirate4x4.com/forum/showthread.php?t=805076
Disclaimer: I am building my M-151 into an extreme rock crawling rig, which involves extensively chopping it up - with the intent to drive it hard. So if you're a military vehicle purist, hit the back button now.
When I bought the Mutt about 5 yrs ago, I knew virtually nothing about them; but I have always been an avid offroader, so I quickly learned to appreciate the awesome offroad performance of the M-151's. The Mutt was amazing offroad even in stock form, but being the type that can't leave anything stock, I knew it had more potential.
This is pretty much what I started with (except the snorkle). It actually looks decent in the pics, but believe me it was far beyond repair. The only thing connecting the front half to the back half was the upper "rail" of the transmission tunnel, virtually everything below that was gone, not rusted out, but gone. Half of the pinch welds on the unibody were busted loose, the bed was rusted out, and of course every bushing and bearing in the drivetrain and suspension was worn out or missing alltogether. After a few mild offroad trips I realized that with 6 inches of flex in the unibody, it was only a matter of time before the thing buckled in the middle, so I started modifying it.
The first set of mods was to replace a few major components in the suspension and drivetrain, build new floorboards, install a ROPS, lift it enough to clear 36" double beadlocked, hummer wheels and tires, and swap the crappy rear suspension for another front suspension assembly (like they should have been originally). I welded the diffs and wheeled the piss out of it, but soon realized the factory suspension and gearing didn't like the hardcore rock trails and big tires (big suprise).
I scored a D44 and 9" axles from a '78 Ford f150 and decided to do a solid axle conversion for better articulation, durability, parts availability, and gearing. The axles are running spools and 5.43 gears, and if that isn't enough gear I'll build a 9" front axle and run 7.50 gears. I kept the engine and transmission because they are compact, light, and well - I already had them. The Zenith carb was nothing but problems and I didn't like sitting on a leaky gas tank so I converted it to propane with a Got Propane(brand name) kit for a Suzuki Samurai, which suprisingly bolts right on, and can support up to 100 hp. There is no comparison between the carb and propane, now I have perfect throttle response, smoother idle, and reliable starting in any weather. An added bonus is now I can store it for 100 years and fire it up with the same fuel. It is also obviously converted to full hydraulic steering (using a GM Saginaw pump), and I plan to swap the points for electronic ignition. I previously converted it to 12 volt, then realized 24 volt is better all around, so I will be running a one wire, 24v delco alternator.
Here are a few older pics of the current build. I decided to go with a one link suspension with a transverse leafspring to locate the axle side to side. The suspension is my own design and should allow for mucho articulation and should be able to absorb big hits when I catch air. Everything is just tacked together for now.
The one link suspension has the added benefit of protecting the driveshafts. It will eventually have full leaf spring packs, I am using the main leaf only for mockup.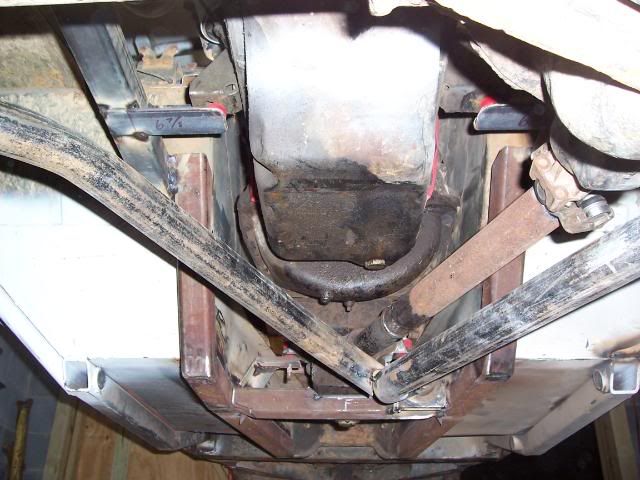 This is a drawing I did of the front and rear suspensions(not exact), this will help show how the springs keep the axles centered, as it is difficult to see in the pics.
Here you can see the 7" section of the windshield frame I cut out. Trying to keep the center of gravity as low as possible.
As you may have noticed, this is an extremely low budget build that will be completed for far less than $5000 counting the initial purchase of the Mutt. The chassis is 1.25" SCH40 pipe, and the suspension is 1.5" SCH80, all bent on a $79 Harbor Freight pipe kinker.This is basically where I am at now; I am currently mocking up the rear suspension and finishing up the cage/chassis. It will have about a 106" wheelbase and is 78" outside of tire to outside of tire. I am building a 2 peice rear driveshaft with a carrier bearing to keep the belly flat.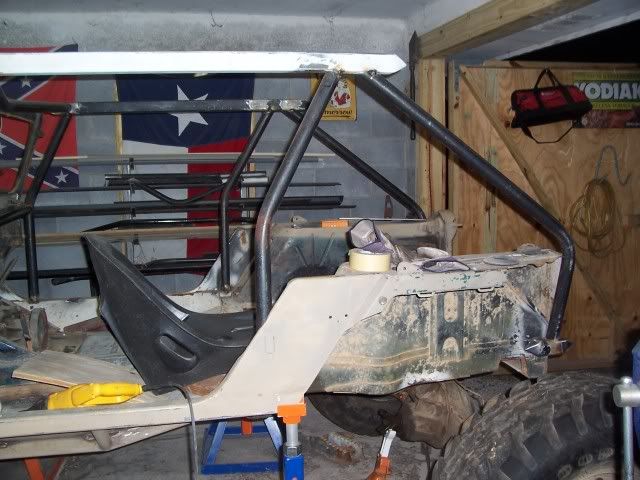 Now lets hear what you G838 guys think about it.