SOLD-SOLD-SOLD!
Up for sale - Nice new custom license plate, stamped just as a normal license plate would be, same material, same four screw holes, same everything.
OD green and stamped with
M151A1
finished in white letters with nice sharp edges, followed by a small stencil star, also in white. Never been mounted.
Perfect for your (say it with me....)
M151A1
. Will also fit on a M151 and a M151A2, but people will look at you funny and laugh at you behind your back.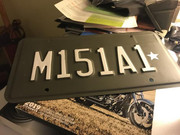 Cheers,
TJ